South Tyrol, region of pleasure – a passion for magnificent food
In South Tyrol the gourmet lives in Paradise.
On one hand - possibly this is the main reason - the South Tyroleans themselves enjoy food. On the other hand the location between North and South and the country's history ensure that there is hardly anywhere else, where such delicious and international diversity reaches the table. From the hearty Marende, or afternoon snack, or steamed dumplings to exquisite fish dishes or a simple crispy pizza. Everything home-made, everything genuine, everything rooted in the region.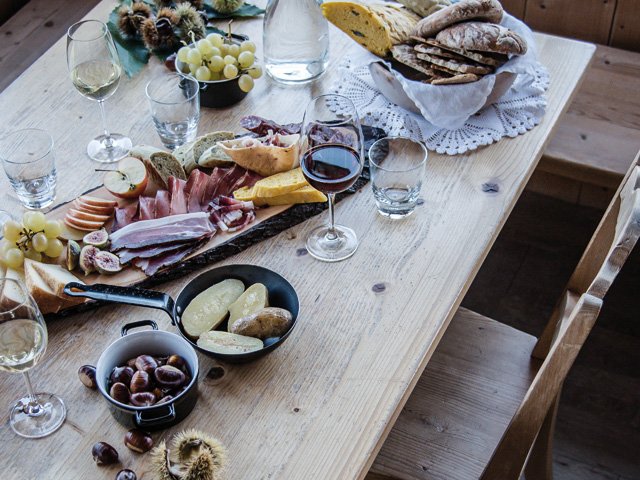 All year round
A quality criterion for a good restaurant? A menu, which is not too extensive, but which changes with the seasons and uses as many regional ingredients as possible. And there are plenty of restaurants like this in South Tyrol. In spring in the region around Merano light, healthy dishes, such as asparagus or herb delicacies, are offered. Summer allows the South Tyroleans to become rather more southern: late on long, sultry evenings you enjoy Mediterranean pizzas, dishes and salads, accompanied of course by a summery aperitif and a glass of lovely wine.
Tips for connoisseurs
If you ask, where you can eat well, the answer must be: What do you want to eat? In Cermes and the surrounding area there are countless outstanding restaurants, ranging from simple and down-to-earth or solidly bourgeois to restaurants with gourmet stars for that special occasion. As a South Tyrolean family the Platters naturally love discussing food with you and will let you into the secret of their personal favourite eating places in the region.