From the garden to the breakfast table
Breakfast in Paradise
Breakfast in Paradise. The morning sunshine warms the venerable walls, a smile accompanies the soft clatter of the coffee cups and infects everyone, spreading quiet contentment. Morning satisfaction, the promise of a splendid day. "I look forward most to breakfast," has been heard from the lips of many of the loyal Obergluniger guests.
Because the idyllic inner courtyard in summer and the comfortable breakfast room beneath its rustic vaulting in winter invite you to linger. But above all because the breakfast with select delicacies from the farm and the immediate neighbourhood is so generous. No kilometres and from organic farming: that simply tastes different, better, more genuine.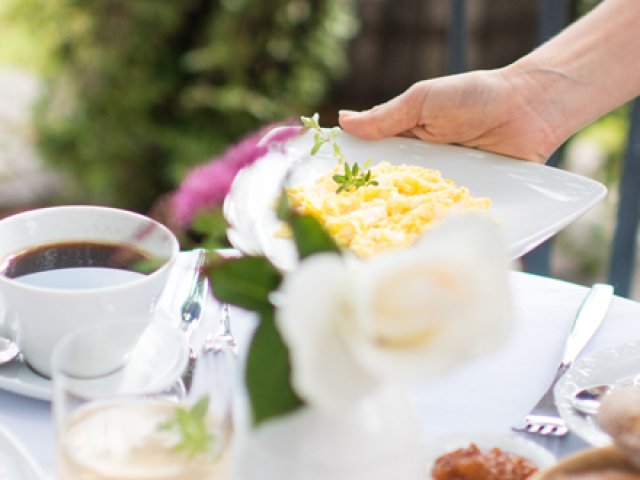 Breakfast?
Home-made tastes best!
The ladies in the Platter household cannot be surpassed for hard work and energy, when home-baked bread and fluffy cakes are to be conjured onto the breakfast table. Baked fresh every day, slightly different every day and simply delicious every day. Possibly a soft -boiled egg with this, with a golden yellow, really tasty yolk from the hens nearby. A creamy cappuccino, the smell of fresh apples, a dream. The breakfast table almost sags under the home-made delicacies and organic products from the region. Home-made fruit spreads, compotes, and much more, prettily and appetisingly arranged, together with a variety of savoury things, such as cheese, bacon and ham, everything the heart desires. Isn't it wonderful that you can linger over breakfast, when you are on holiday?